Organizational Services Division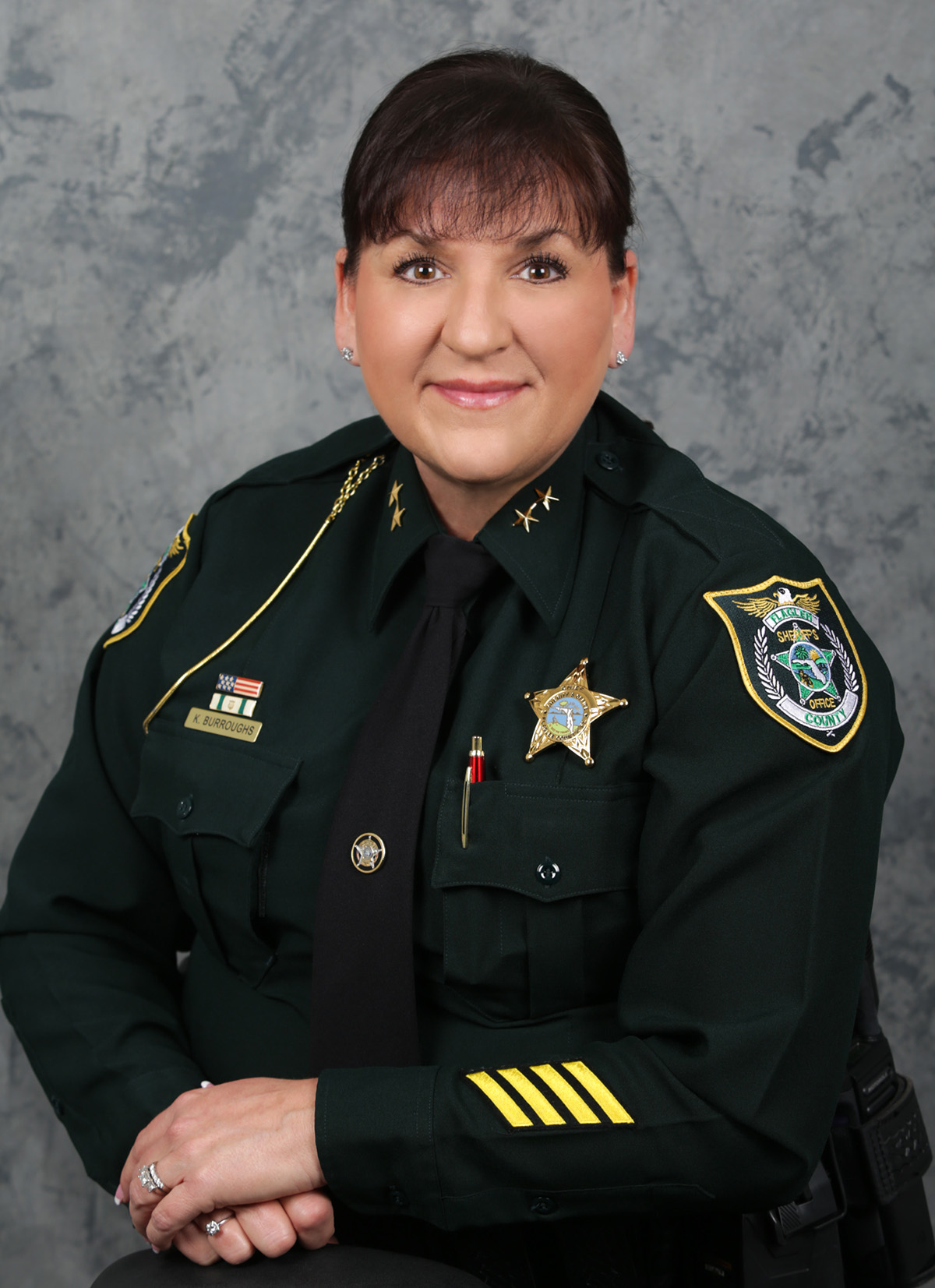 Chief Kim Borroughs
Division Chief
Email: kburroughs@flaglersheriff.com
(386) 586-4892
The Organizational Services Division encompasses Management Services, Human Resources, Accreditation, Training, and Special Projects.
Human Resources Section
This Human Resources Section works closely with the Florida Criminal Justice and Standards Commission to ensure that all of the agency's sworn employees remain current on the state-required training necessary to maintain their sworn status. This division is also responsible for the recruitment and hiring of qualified applicants, including sworn law enforcement and detention deputies and non-sworn support staff, and maintaining personnel records for the agency. The Human Resources Section is also responsible for coordinating all employee benefits.
To view the current Flagler County Sheriff's Office Employment Opportunities, click HERE. You may also contact Human Resources at (386) 437-4116. The Flagler County Sheriff's Office is an Equal Opportunity Employer and encourages all persons to apply.
Training and Accreditation Section
The Training and Accreditation Section is responsible for all agency employee training and for ensuring the Agency maintains its various accreditation certifications.
Training Unit
The Training Unit is responsible for the Field Training and Evaluation of all new sworn hires. They are also responsible for annual In-Service training and ensuring that personnel receive training to keep their abilities current. The unit also coordinates specialized training by either hosting specialized training at our training facilities or by assisting employees attending various schools and seminars.
Sheriff Staly encourages employees to continue their formal and specialized education to attain their personal goals and to better serve the community. To support this goal, the Agency provides college reimbursement to non-probationary employees within agency guidelines.
Accreditation Unit
The Flagler County Sheriff's Office was initially awarded state law enforcement accreditation on February 9, 2005, by the Commission for Florida Law Enforcement Accreditation, Inc. (CFA). The Agency has also been accredited by the National Institute of Ethics and The Accreditation Unit. The Communications Center is also accredited. The Agency was awarded state accreditation from the Florida Corrections Accreditation Commission in 2018, the first time in agency history. The unit is responsible for reviewing and maintaining the agency's written general orders and all forms used by the Sheriff's Office.
Management Services Section
The Management Services Section is responsible for various management support areas of the agency
Emergency Communications Unit
EMERGENCY: 9-1-1 NON-EMERGENCY: 386-313-4911
The Flagler County Sheriff's Emergency Communications Unit is an accredited 9-1-1 center and serves as the county-wide Public Safety Answering Point (PSAP) for all Emergency 9-1-1 calls. The Sheriff's Communications Center answers all emergency and non-emergency phone calls and provides dispatch services for the Sheriff's Office, the cities of Bunnell and Flagler Beach Police Departments, Flagler County Fire/Rescue, City of Palm Coast Fire Department, Bunnell Volunteer Fire Department and the Flagler Beach Fire Department.
Calls for medical assistance are immediately dispatched to Fire and Rescue and Law Enforcement personnel. In cases of a life-threatening emergency, a dispatcher will remain on the line with the caller and provide pre-arrival instructions to the caller until the arrival of emergency personnel.
Along with their role as E-9-1-1 dispatchers, communication center personnel complete a variety of activities in support of law enforcement or fire/rescue operations including monitoring of state and national computer databases. The center uses a sophisticated Computer-Aided Dispatch and Records Management System to assist in documenting and dispatching calls for service. Agency also uses a modern 800mhtz radio system for direct communication with first responders.
Records Unit
The records unit is responsible for maintaining all official records of the agency and handling all public information requests. For information on how to obtain a law enforcement report or any other public record, click HERE.
Research & Development
The research and development unit is responsible for conducting research on new initiatives and best practices being discussed for implementation within the agency.
Emergency Management
The Management Services Section Commander is also responsible for liaison with Flagler County Emergency Management and has an intricate role with the county Emergency Operations Center in the event of a natural or man-made disaster.
Innovative Technology
The Management Services Section Commander is responsible for coordinating the Information Technology contract and services used by the Sheriff's Office with the County. Innovative technology is responsible for all hardware and software used by the agency liaison with Flagler County, such as C.A.D., R.M.S., and body-worn cameras.