Meet Sheriff Rick Staly
18th Flagler County sheriff (2017–Present)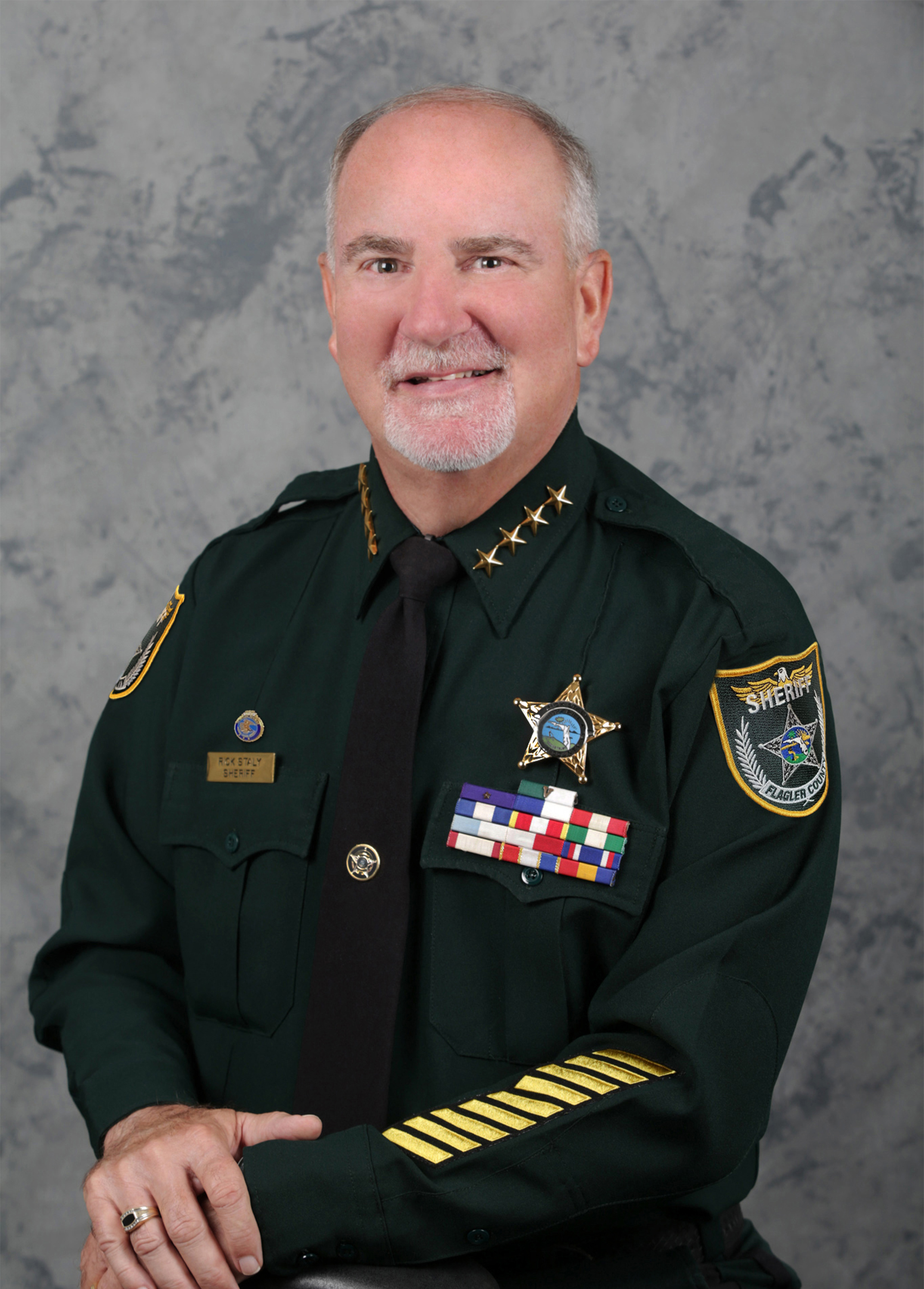 CONTACT
Phone: 386-586-4891
Email: Sheriff@flaglersheriff.com
Sheriff Rick Staly is serving his second term as Flagler County Sheriff. He was first elected to the office of Sheriff in 2016 and was sworn in as the 18th Sheriff of Flagler County on January 3, 2017. Following his first term, he was overwhelmingly re-elected in 2020. As Sheriff, he leads a workforce of more than 500 employees with a budget of over $30 million dollars.
---
Background
Sheriff Staly holds a master's degree in Justice Administration from the University of Louisville and a bachelor's degree in Criminal Justice from Rollins College. Sheriff Staly is a graduate of the 177th Session of the FBI National Academy, the 79th Session of the FBI LEEDS Program, and the Southern Police Institute's 79th Administrative Officer's Course. He is also a graduate of the 112th Session of the National Sheriff's Institute (NSI), making him the first Sheriff in Flagler County to graduate from the NSI.
Sheriff Staly serves as President of the Florida Deputy Sheriff's Association. He serves as Vice Chair of the Board of Directors of the Florida Sheriff's Association and is the Immediate Past President of the Florida Sheriffs Youth Ranches. He previously served as Vice Chair of the Board of Directors for the Commission on Florida Law Enforcement Accreditation. He was awarded lifetime membership in the National Sheriff's Association, International Association of Chiefs of Police, Southern Police Institute Alumni Association, and the Florida Police Chiefs Association. He is a lifetime member of the National Rifle Association (NRA).
Sheriff Staly is also an active member in the local community. He is on the community board of the Boys and Girls Clubs of Volusia/Flagler Counties. He is a Past President of the Rotary Club of Flagler County and of Crimestoppers of Northeast Florida. He is also a member of the Volusia-Flagler Police Chiefs Association, the B.P.O.E. Elks of Palm Coast, Bunnell Lodge No. 200 F&AM, and the Flagler County Gun and Archery Club.
Sheriff Staly and his wife, Debbie, are members of Flagler Beach United Methodist Church and live in Bunnell. Sheriff Staly has two grown daughters, Lauren and Diana, and three grandchildren, Aiden, Lexi, and Adalynn.
Law Enforcement Career
During Sheriff Staly's more than 40-year career of public safety service, he has received numerous awards, commendations, and medals. While in the Orange County Sheriff's Office, he received the Medal of Valor, Purple Heart Medal, and Florida Governor's Medal of Heroism after being shot three times while saving the life of a fellow deputy sheriff. In 2015, he was awarded the President's Lifetime Achievement Award from President Obama. In 2019, Sheriff Staly was selected as one of five finalists for the NRA's Law Enforcement Officer of the Year Award.
Sheriff Staly began his law enforcement career in 1975 as a police officer in Oviedo and later in Altamonte Springs. In 1977, Staly joined the Orange County Sheriff's Office as a Deputy Sheriff. During this time, he was shot three times while saving the life of a fellow deputy. He was awarded the agency's Medal of Valor, Purple Heart Medal, and the Governor's Medal of Heroism for his efforts. He later worked his way through the ranks and was promoted to Undersheriff in 1995. After six years as Undersheriff—and 24 years at Orange County in total—Staly retired from the public sector in 2001. However, he remained a sworn reserve Deputy Sheriff with the Seminole County Sheriff's Office.
Following retirement, Staly began work in the private security industry as a Senior Vice President or Ginn Development Company, where he was responsible for security operations in five states and the Bahamas. He moved to Flagler County in 2006 and started his own business based in Palm Coast in 2008. After growing the company over four years to 128 employees with an annual revenue of $3.5 million dollars, he sold the company to a national security firm and looked to return to public service.
In 2013, he joined the Flagler County Sheriff's Office where he served as Undersheriff for two years under Sheriff Jim Manfre. He would retire to run for the top position himself and, after a spirited campaign that saw eight challengers vying for the seat, Staly was elected Sheriff in 2016. For the first time in 16 years, Flagler County had a Florida-certified law enforcement officer as the top cop in the county.
Time as Sheriff
Upon taking office, Sheriff Staly set to grow the agency to keep up with Flagler County's growing population. During his first year in office, he worked with the Flagler County Board of County Commissioners and the Mayor and City Council for the City of Palm Coast to provide increased personnel to serve the growing county and city. This resulted in 21 new positions, the largest employment increase at one time in the history of the agency.
As Sheriff, Staly seeks to continually improve the Flagler County Sheriff's Office. This started with reorganizing many aspects of the agency. Sheriff Staly created the Community Policing Division and implemented district policing by creating three districts to serve the distinct and unique parts of Flagler County. Believing that proactive, intelligence-led community policing is the key to keeping a community safe, he has also worked to make FCSO a more proactive agency. This included the creation of the Domestic Homeland Security Section, Intelligence Unity, and Predictive Crime Analytics Unit; all designed to prevent and identify criminal and potential terrorist activity. Additionally, he created the Problem Area Crime Enforcement Unit (P.A.C.E.) to focus on known offenders, gang members, and crime hot spots.
He also reorganized the Detention Division into the Court and Detention Services Division. Through this division, he has continually worked to improve the facilities and programs at the Sheriff Perry Hall Inmate Detention Facility, which he has nicknamed the "Green Roof Inn." He created an Offender Rehabilitation and Inmate Services Unit, believing that if you can teach an inmate a trade, help them to earn a high school diploma, or provide counseling and treatment for addiction or anger issues, they could become productive members of the community and not return to jail upon release. In addition, for the first time in history, the jail provided 24-hour inmate medical services, done by contracting services with a private medical company to reduce liability and control inmate medical costs. Additionally, an Inmate Work Program was started where inmates would perform maintenance and landscaping work at public facilities and roadways under the watchful eye of a Detention Deputy. Finally, under Sheriff Staly, the county jail received its first accreditation in history. As of 2023, the county jail holds four separate accreditations.
Sheriff Staly also created the Youth Services Section to focus on the needs of the community's growing youth population. This included developing a close partnership with Flagler Schools. Through this partnership, after-school sports for middle school students were implemented through the Flagler Sheriff's Police Athletic League (PAL) program to provide crime prevention through sports. Additionally, a Criminal Justice Academy was developed and implemented in both Flagler-Palm Coast and Matanzas high schools.
He also started FCSO's first full-time Marine Unit and purchased the agency's first airboat to patrol and respond to emergencies in the marsh areas of Pellicer Creek and the Intracoastal Waterway. Additional detectives were also assigned to the Investigative Services Division and crime prevention, training, and crime analysis units received increased staffing.
The agency's first full-time General Counsel was hired, and a Report Review Unit was created. The Report Review Unit was responsible for reviewing all arrests and case filings to ensure the elements of the crime were included in the report. This was done to enhance the quality of the reports and the likelihood of prosecution by the State Attorney's Office.
Sheriff Staly is known as a hands-on Sheriff or a "Cops' Cop" and is known to call criminals "dirtbags." While he has no-nonsense styles of law and order and leadership, he also cares deeply for those who serve in the Sheriff's Office and the community that he and his deputies are sworn to protect. For instance, Sheriff Staly often assists his deputies at crime scenes, serving arrest or search warrants, or personally makes arrests or conducts traffic stops on one of his usual Friday night patrols, many times with community leaders riding with him. Additionally, under his administration, the Flagler Sheriff's Employee Assistance Trust Fund (F.S.E.A.T.) was created to support the well-being of employees during personal and unexpected family emergencies. This is exemplified in the agency motto under Sheriff Staly: "An Honor to Serve; A Duty to Protect."