Investigative Services Division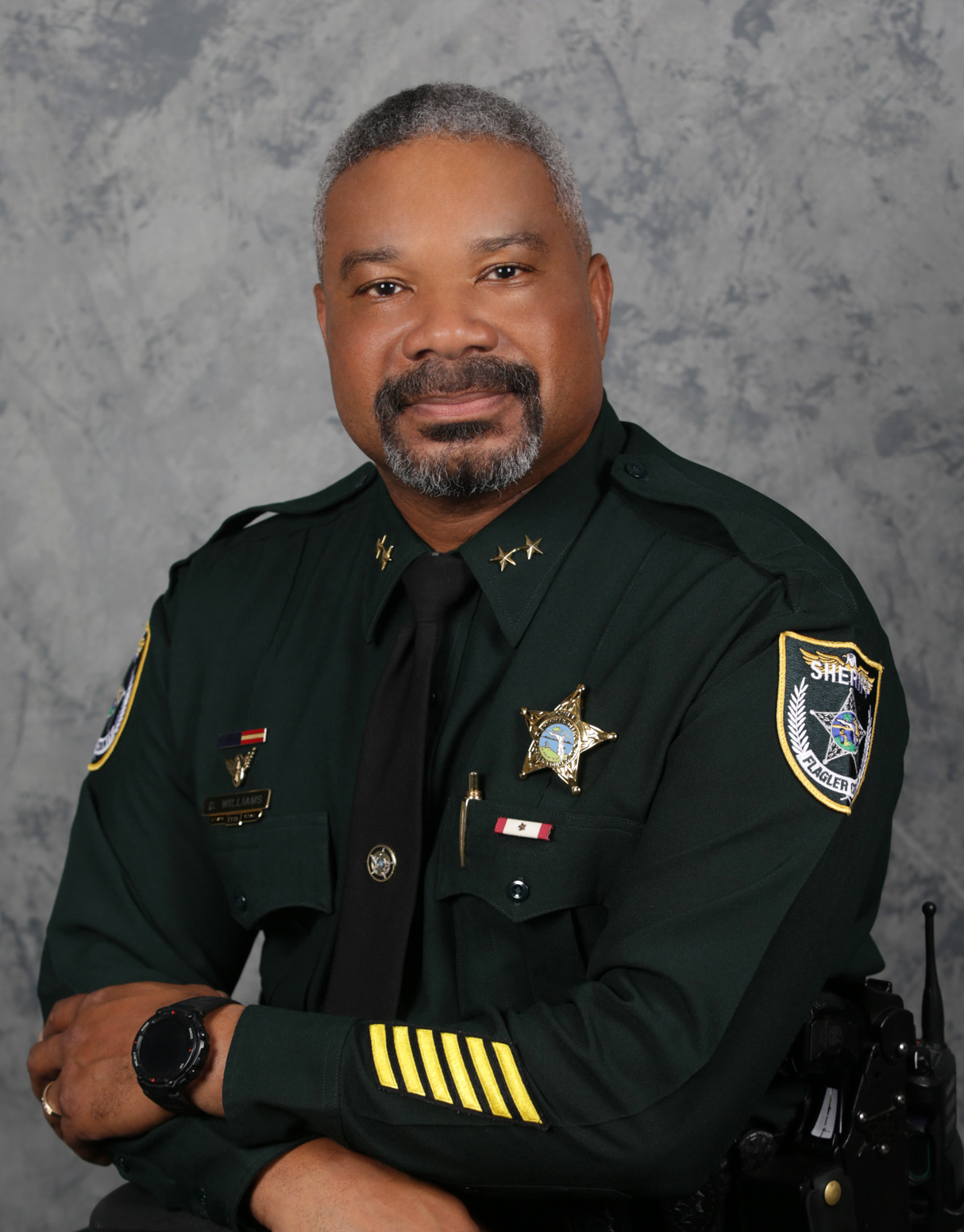 Chief David Williams
Division Chief
Email: DWilliams@flaglersheriff.com
(386) 586-4883
The Investigative Services Division (ISD) includes the Major Case Unit, General Investigations Unit, Special Investigations Unit – Narcotics and Gang Enforcement, Homeland Security Section, Crime Analytics Unit, Real Time Crime Center, Intelligence, Youth Services Section, and Victim Services Unit.
Investigations Section
The primary function of the Investigative Services Division is to conduct follow-up investigations of crimes reported by the Community Policing Division and conduct proactive narcotic and gang enforcement investigations. Cases are reviewed by an Investigative Supervisor and screened for solvability factors. Cases are then assigned to specialized units of the Investigations Section based on the type of crime. Members of ISD work in conjunction with the Crime Analytics Unit and the community in order to solve crimes and create a safer community for the citizens of Flagler County.
Major Case Unit
This unit conducts investigations on homicides, sexual assault/battery, child abuse, armed robbery, missing persons, and crimes against the elderly. This Unit often works with outside agencies including the Medical Examiner's Office, the Family Life Center, and the Florida Department of Children and Family Services.
General Assignment/Property Crimes Unit
This unit conducts follow-up investigations on burglaries, thefts, auto thefts, fraud, identity theft, forgery, and embezzlement. The Property Crimes Section strives to identify and arrest property crime suspects and recover the property taken.
Special Investigations Unit
The Special Investigations Unit (SIU) is located within the Investigative Services Section and is a proactive unit targeting drug dealers and gang members. The team is responsible to investigate all drug-related complaints including organized crime, drug trafficking organizations, money laundering, pharmaceutical drug diversion, and prostitution. The SIU team conducts follow-up investigations generated by citizen complaints as well as patrol officers and generates primary investigations by utilizing technology and confidential informants. The Unit is involved in every aspect of a drug investigation including street-level drug purchases, marijuana growing operations, and clandestine lab investigations.
The Flagler County Sheriff's Office is a member of the North Florida High-Intensity Drug Trafficking Area (HIDTA) and is a partner in the Tri-County Task Force. The Tri-County Task Force is made up of members from Law Enforcement Agencies within St. John's, Putnam, Flagler Counties, and the Florida Department of Law Enforcement.
Homeland Security Section
The Homeland Security Section is responsible for coordinating, investigating, collecting, analyzing, and disseminating intelligence information concerning criminal activity, international and domestic terrorism, pawn, street gangs, outlaw motorcycle gangs, and sexual offenders/predators. The Section gathers criminal intelligence information for the purpose of tracking and identifying emerging crime patterns and assists in developing enforcement and prevention strategies.
Real-Time Crime Center
The RTCC deploys a host of advanced technologies to provide critical information to first responders in the field, including camera systems, crime databases, and license plate reader technology. The RTCC also has real-time access to all public school cameras in the district if a serious incident or threat to a school is detected. School cameras are not monitored and are only accessed in the event of an active investigation or threat. All of these tools can assist with investigations of criminal activity or quality of life concerns.
When an emergency call for service comes into the 9-1-1 center, crime analysts immediately pull up any camera feeds in the area to aid responding deputies and detectives in their investigation. The RTCC provides real-time and investigative information for deputies responding to a crime, traffic information for emergency vehicles during special events, situational awareness and investigative information during life-threatening emergencies, real-time information on hazards during storms, and much more. Recently, two potential Silver Alert cases were solved with the use of license plate reader technology and the missing persons were found safely before a missing person's report was even filed.
The RTCC is currently staffed by two full-time crime analysts, with a position for a third analyst recently approved by Sheriff Staly. Detectives utilize the RTCC on a daily basis to follow up on cases and use the camera feeds available to strengthen their investigation.
Criminal intelligence Unit
The Crime Intelligence Unit supports the agency's Intelligence-Led Policing (ILP) known as CRIME-MAPS. The analysts provide short and long-term crime and intelligence analysis to law enforcement deputies, detectives, and others to assist in the identification of ongoing and emerging crime patterns and trends, serious and prolific offenders, and criminal groups and organizations. The majority of the analytical work produced is utilized in strategic plans, tactical operations, and resource allocation to reduce crime; or in case development, investigation, and the identification, arrest, and prosecution of offenders.
Youth Services Section
The Youth Services Section focuses primarily on preventing youthful offenders and is responsible for the School Resource Deputy program, Sheriff's Police Athletic League (P.A.L.), Juvenile Assessment and Monitoring program (J.A.M.), police explorers, and various community outreach programs focused on our youth and preventing juvenile crime.
School Resource Unit
Deputies assigned to the School Resource Unit provide sworn Deputy Sheriffs to all middle and high school campuses in Flagler County. The unit also provides one deputy that rotates among Flagler County elementary schools. Find out more here: School Resource Unit
Juvenile Assessment & Monitoring Program
The Juvenile Assessment and Monitoring program is a partnership between the Sheriff's Office and the Florida Department of Juvenile Justice. The program monitors youthful offenders that are on probation or home confinement to verify they are complying with the stipulations of their release, such as curfew and remaining drug-free. Juvenile offenders receive unannounced visits and immediate on-site drug testing.
Behavioral Response Unit
The Behavioral Response Unit (BRU) began in 2022 under the Criminal Justice, Mental Health, and Substance Abuse Reinvestment Grant. BRU responds in unmarked vehicles with FCSO deputies to assist with mental health and/or substance abuse crisis calls. Since the program began, BRU has built connections with community resources to provide referrals and follow up services for individuals in crisis. Individuals who are active in the program are provided follow up services in person and over the phone, along with care coordination, case management, and referrals for services. BRU also meets with Flagler School Student Services to staff cases monthly in an effort to fill gaps in services and has established partnerships with the CNT and K9 units. For more information, please email BehavioralResponseUnit@flaglersheriff.com.
Sheriff's Explorer Program
The Sheriff's Explorer program is affiliated with the Boys Scouts of America – Law Enforcement Explorer program and allows teenagers an inside view of law enforcement as a future career choice. If you or someone you know would like to learn more about our Explorer Program please email FCSOExplorers@flaglersheriff.com.
Sheriff's Police Athletic League (P.A.L.)
The Sheriff's Police Athletic League works with volunteers to provide activities for youths of all ages. To learn more about Flagler Sheriff's P.A.L. visit: http://www.flaglersheriffpal.org/ or Flagler Sheriff's PAL.