Undersheriff Jack Bisland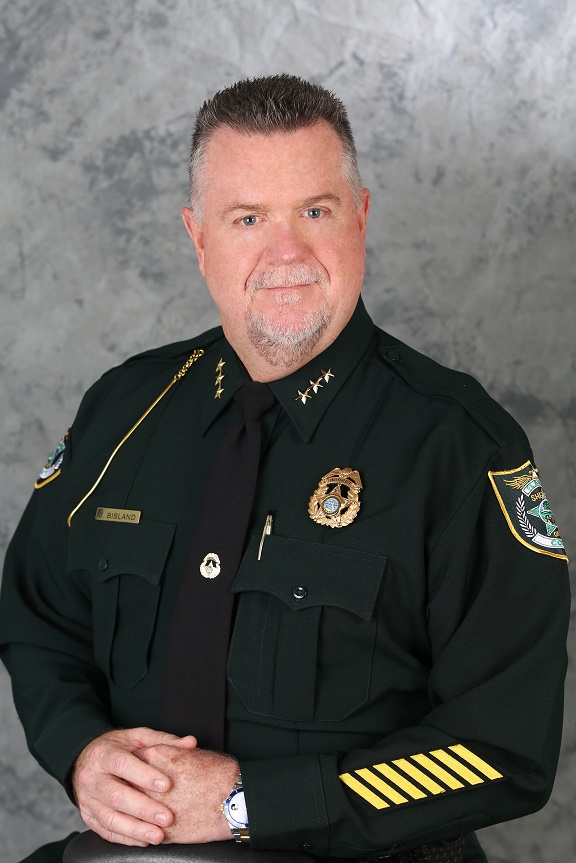 Undersheriff Jack Bisland has 39 years of diverse law enforcement experience beginning his career in 1978.
Undersheriff Bisland worked for the City of Longwood Police Department, serving as a patrol officer, motor officer and detective moving up the ranks to Lieutenant in the Criminal Investigations Division. From 1983-1986, Undersheriff Bisland was assigned to the US Department of Justice Drug Enforcement Administration as a Task Force Agent and investigated federal drug cases across the country and the Caribbean. In 1989, Undersheriff Bisland joined the Florida Department of Law Enforcement (FDLE) serving a twenty year career as a Special Agent in the Orlando Regional Operations Center and retiring in 2009 as the Resident Agent–in-Charge (RAC) of the Daytona Beach Field Office.
While a Special Agent with FDLE, Undersheriff Bisland conducted investigations statewide in the areas of narcotics, violent crime, economic crime and public integrity. As the FDLE RAC, Undersheriff Bisland supervised a Federally Funded Drug and Money Laundering Task Force as well as the investigative and forensic components of the Daytona Beach Field Office.
After a short period in the private sector working as regional vice president for a national security provider, Undersheriff Bisland went to work at the State Attorney's Office in the 7th Judicial Circuit of Florida in 2010. There he specialized investigating public integrity cases and in 2015 was assigned to supervised the Career Criminal Task Force until his appointment by Sheriff Staly as the Undersheriff of the Flagler County Sheriff's Office.
Undersheriff Bisland is a graduate of the FDLE Foundational Leadership Program and a member of the Florida Sheriff's Association, the PBA Retired FDLE Agents Association, the Volusia-Flagler Chiefs of Police Association, and serves on the Board of Directors for the Family Life Center of Flagler County.
You can contact Undersheriff Jack Bisland at 386-586-4806 or by emailing jbisland@flaglersheriff.com.